Dear Coco Point Fund Friends and Donors, 
As another school year approaches it's end, we've been reflecting on all of our scholarships recipients and where they are in the world!
Each year the Coco Point Fund continues to ask for scholarship donations to allow more candidates to pursue their education. As it operates in it's 22nd year it continues to be a critical resource. We have assisted 25 students in the last 5 years.
The scholarship fund was created to help assist worthy Barbudan students with partial scholarships to colleges and universities around the world. It was set up in order to provide educational opportunities for young residents of Barbuda wishing to pursue education beyond the level of education offered on Antigua and Barbuda and who intend to return to Barbuda following completion of their studies to give something back to their community.
It is truly amazing to see where students from Barbuda study, and how broad the subjects are. From education to hospitality, to computer science, to finance and medicine, students are gaining incredible knowledge that can be brought back to the Island to support its growth. The range of countries and schools is as far and wide as the subjects with students at institutions like Shenandoah University, Walden University, University of the West Indies, University of the Southern Caribbean, York University and Universidad Escula Latino Americana de Medicina.
We congratulate the following students below who are pursuing their studies – keep up the good work! And thank you for your continued donations making it possible for students like this to grow and return to Barbuda to help the Island prosper.
EZEKIEL FRANCIOS
University of West Indies, Five Islands Campus

Ezekiel is a great recipient who touched base with the Fund recently.   He explained his work creating a Constitution at his campus and his outreach efforts.  He explains here:

"At the UWI Five Islands Campus and every other UWI Campus we have a Guild of Students. I had the great opportunity to create our Constitution, which outlines all the roles and responsibilities of each and every member of the Guild of students. So, essentially I would have created my own roles and responsibilities. The Constitution was so well done that it is in the works currently to be adopted as the foundation for a "One Guild" Constitution, this is basically a constitution to govern all of the campuses as one unit."

"As Vice President the main role I had was to foster relations among students through the creation of Clubs and Societies. I was ecstatic at the fact that during the year we were able to successfully start about 15. These have been a huge success so far, with many students saying it has allowed them to experience University on a more social level."

"Another role as Vice President is to have different community outreach programs. The outreach program that I am most proud of is one that has helped the students in Barbuda. Basically what was done is that we sell merchandise based on Five Islands Campus and a percentage of the proceeds go towards the most improved Primary and Secondary school student to help with school supplies and other needs. Another program I have started is the Internship program to enable our students to receive valuable work experience while studying."

"The last project that I had recently concluded was a Continuity plan. This plan is to ensure that even after our current Guild is gone that a foundation is there to guide incoming Guilds for years to come."
 
SUPPLIES TO THE ELDERLY AND SINGLE PARENT HOUSEHOLDS 
Pictured below was another outreach projects that Ezekiel was involved in. "We were packing supplies that we received from a sponsorship with the supermarket, First Choice in Antigua. We had a lot of supplies such as small food stuffs and sanitation equipment. Each bag varied depending on the size of the family that we were distributing the bags to. We worked with someone from the Five Islands community to find those who were deemed to be most in need, with special focus on the elderly and single parent, low income households. Then the same day, directly after those pictures were taken we distributed the packages around the community.
The first picture with the 3 people, included myself in the red and the man in the chair was our principal at the time, Stafford Griffith, and the other person is the Guild President, Caleb Gardiner. The 2nd picture included the Guild members that were present and helped with the packaging and distribution of the bags."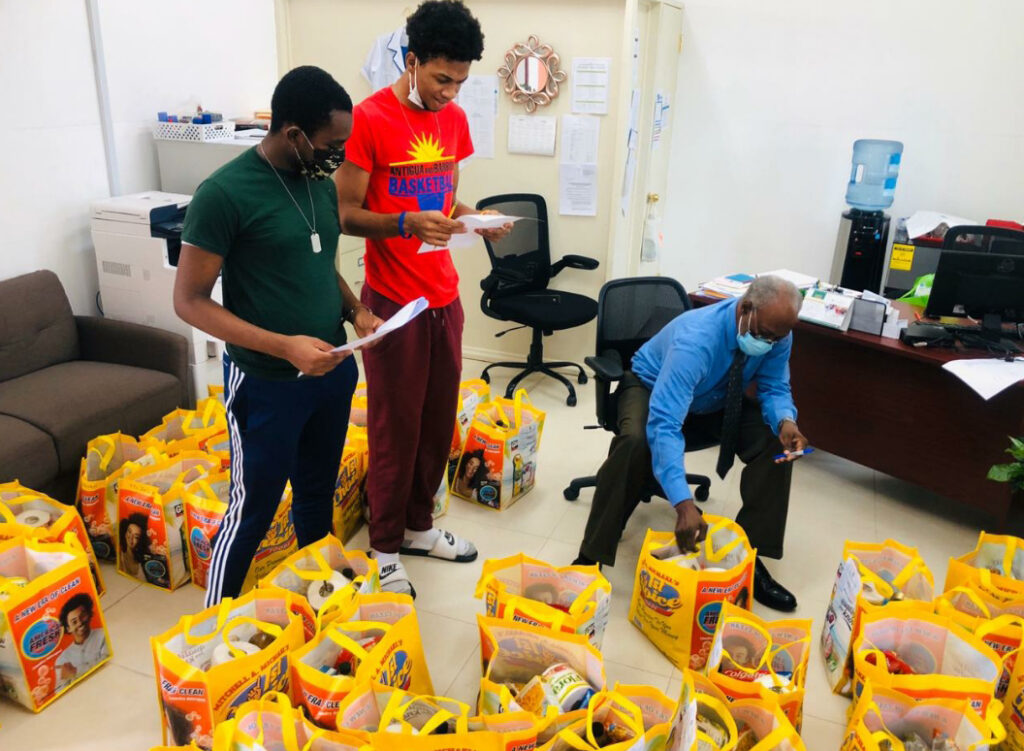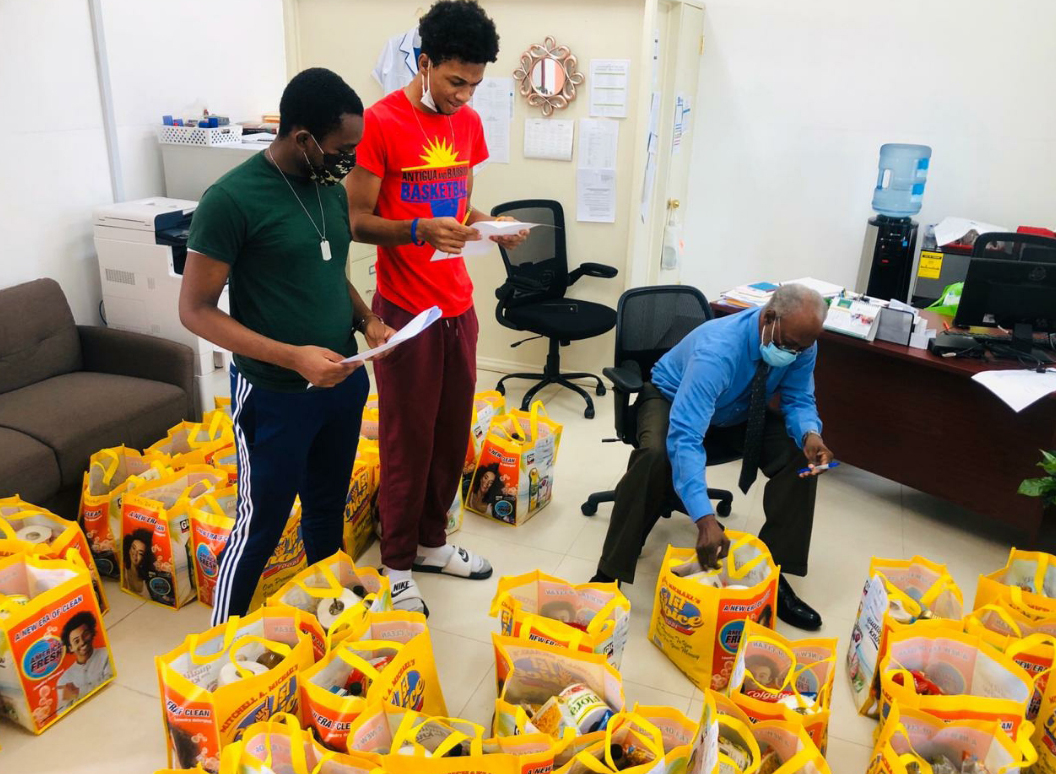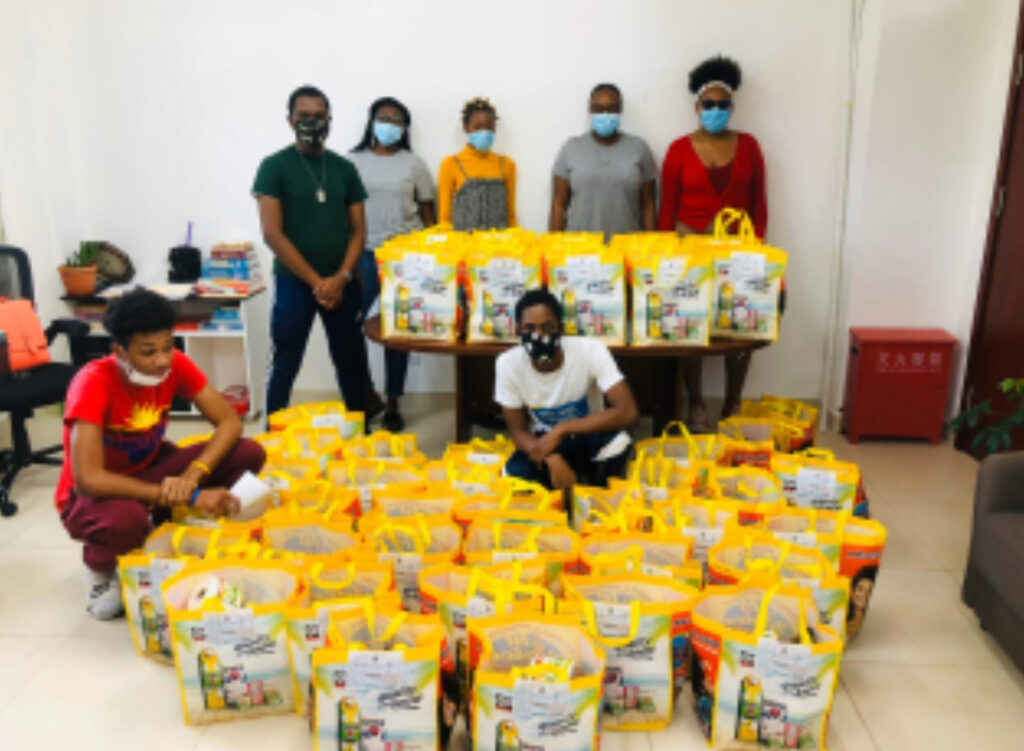 STARR GEORGE
Waldorf University, Journalism


I started Waldorf University on January 20th 2021. With my small time there for that semester I've been involved in a series of events like taste of the world where students come together to display a cuisine from their country to the school.
I've also been a part of the world student's association where students have a place to come together and have fun and learn about different cultures and learn new things.

In that short time in WSA, my work didn't go unnoticed, I was then crown Public Relations Journalist at the end of the semester.
I can't wait to start next semester to continue doing my best!